Chapter 2: CONFLICT
"If we have no peace, it is because we have forgotten that we belong to each other." Mother Theresa


THE MOTH POEM (after Ted Kooser)
Since I read his moth poem
"Tiny moth," wee flyer
that lives on human tears
sips eye edges undisturbingly
while we sleep, absorbs more
of our sorrow than its size
now every moth I see
holds that odd
yet kindly potential
And so I say, may all dust
be moth-wing dust
we brush from our eyes.
Claire J. Baker


SUFFERING IN SILENCE (for 9/11 families who want to forget)

I was silent yesterday/ You know when you've said everything there is to say/
About a dismal day/ Kind of silent/ When you want terrible memories
To simply fade away/ Kind of silent/ I've said it already/
In different ways/ a thousand times/ Some people
Still haven't found their missing/ Voice or vanguard/
Yet some how/ It comforts them to hear /about where I was/
How heavy the mental lifting really was/
How heroic/ Everyday people can be/Some survivors
Move people/Some thrivers move on/
He allowed the event/To eventually enter his body/The back pain/
The knee pain/The chest pain/Got old/We don't want to talk/About the lack //


Of assurance/ When the ailment and ache are hidden/And people don't know//
What is not said lingers longer/ Inside he picks at the scab/
Opens the wound again/ Yearly/ His wife cries/ the quiet tears that he can't /
So they both turn away/Suffering in silence/
What's the cost of remembrance?/
What's the cost to forget?/
Yesterday

Venus Jones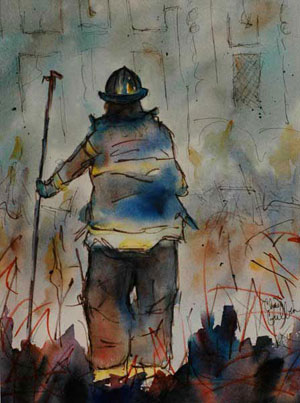 © All rights reserved. Chris Gulbin, Starting the Search, Watercolor


BURN CEDAR BARK
The wound doesn't yet know to heal
One friend feeds me up, black beans and yucca,
yams and chicken soup
Another's shouting poetry on the bridge
plummeting a cloud-steeped, valiant heart
in the cauldron of a needy world
Purple iris bursts the streets—
Even a busted pelvis will reach for the light
if you shine it right
Poetry keeps pushing back the falls with longing
Feeds itself then begs for more
Choreograph it with me!
Healer sisters, basket gatherers, dancers
of the proud and streetwise, tender, sassy
sidewalk-cracking iris!
Seize your breath the only song you get
Burn cedar bark on the trembling morning
You can hear me
getting our bones to laugh
Love each other back
© Mia Kirsi Stageberg
Shiver
I could die from this,
your hands on my face
your breath like steel.
I am shaped like the Earth.
You are shaped like a weapon.
You tear me open again.
My edges will never come together
will never develop scar tissue.
I lie down with you
in the high grass where
soldiers fell not so long ago,
the outlines of their bodies
blurred by stealthy moss.
Among the stumbling wounded ghosts
tangled in their woolen coats
desire strafes me.
Where red soil once caked bayonets
I laugh and shiver.
Erica Goss
POEM FOR MARTIN LUTHER KING, JR. DAY
POEM FOR MARTIN LUTHER KING, JR. DAY
Here it's come round again—
day devoted to thoughts of freedom,
prayers for justice for all people.
In this new year, let the facts stop us
in our tracks so we might see
what is here and now—
the male cardinal on a snow-laden
oak branch.  Look again
and again. Hyssop dipped
into the basin of blood for out-
lining the door frame, Passover.
Today, yesterday, all the same.
A teenage girl in Pakistan
shot in the head by the Taliban
just because she wants to learn.
How many massacred this past year
in Syria?  Leviticus, Jeremiah,
Les Murray—prophets of old and new—
we learn again what we once knew.
Freedom, fleeting as it is,
must be imagined.  The color red
sending sparks like lightening
that splits the tree's bark.
Over winter white and Passover red,
the horror hovers—and the dread.
We must be both turbulent and still.
For freedom and justice we think and pray,
each one of us chanting in our own way.
Enough, we beg, of these self-immolations
by Tibetans tired of being oppressed.
Isn't it way past time we confess
we've been accomplices by our neglect?
Red rover, Red rover.
Red poppies on clover.
Red tails on sunsets.  The red flares
of regrets.  Reality's vividness
a backdrop to hard news, the world's
on fire.  And going up in smoke
every last noble desire.
Diana Woodcock


Evelyn Glaubman, Venceremos! The People, Yes, Mixed media on canvas


Sacred and Useless
Lightning breaks the heart of the forest
while rain stays aloof
as an aristocrat
and still, we do not think
of what madness and responsibility
have in common
or how one mentors the other
in dark apartments
 
while we stroll through
carefully fenced gardens
like sleepwalkers, safe
in our padded dreams
from which we always
return home.
"I will die in Paris,
on a rainy day," the poet said,
"perhaps on a Thursday."  No one says
I will die in a theater in Colorado
bullets popping all around me
at the end of a Thursday.
When the rain finally comes
I seek prayer
sacred and useless,
the only real thing
God has to offer.
Erica Goss
Ghost story

The boy with the Nigerian mother says he is scared to go home,
afraid his mother will give him up to the system again.
Being on the streets is better than foster care because
at least you can make a family where everyone is like you.
You get to choose your family, he tells me; it doesn't choose you.
You are stuck with your real family.
I ask him, "Aren't you afraid of the other gangs? Aren't you afraid of getting killed?"
He looks out from under long lashes that curve toward heaven, toward God.
"Afraid of death? The boy I was died years ago. His ghost came back with a gun."

Susan Gabrielle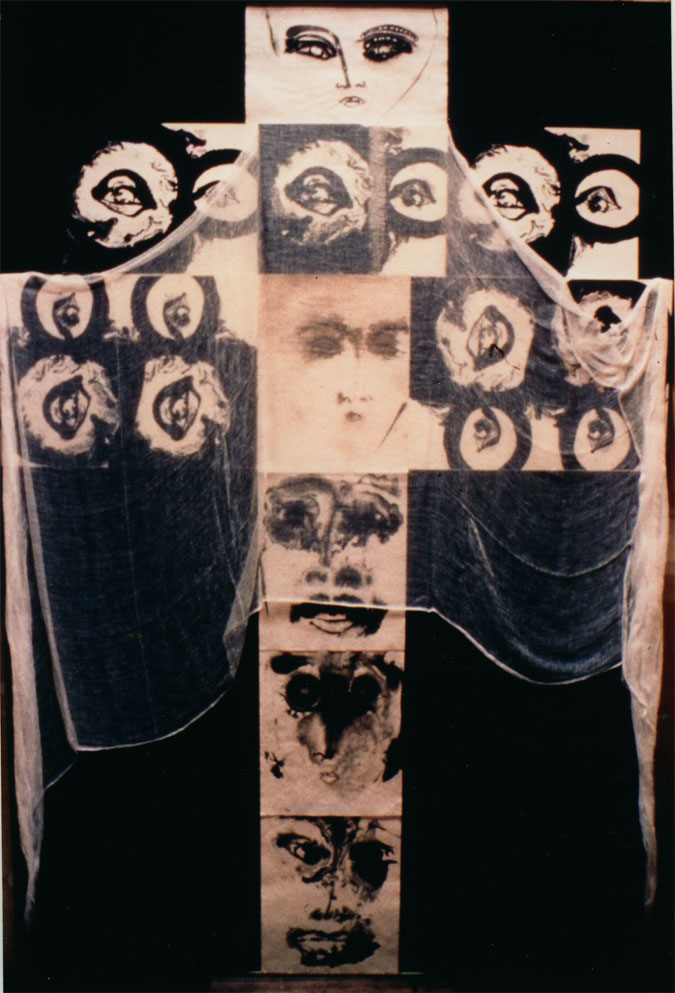 Eveyln Glaubman, Eye Con, Mixed media on canvas

I moved into Oakland on February 1st. That evening, I attended the First Friday gathering a few blocks from my home. I was walking down Telegraph Avenue around 21st Street with a few friends, when a shooting occurred about 30 feet from us. I love Oakland so far, but I've been wanting to put some thoughts down on paper, and not let this moment slip away so easily. I titled the poem "Welcome to Oakland" because that's a phrase I've heard frequently when I've described this experience to others. It is both totally understandable and totally inadequate. ― Brian Greggs
"Welcome to Oakland"
I went back last night to the scene of the crime,
tried to capture the feeling I felt one more time,
took another look at the glimmering pavement,
glimmering from rain, and glass, and probably piss,
possibly silver, or little metal filings anyway,
but the boy who got shot didn't hang in the air,
he had floated away.
I tried to pin down the moment, encase it, remember
how shots rang out lighter than cans being crumpled
in the night, as it happens in city upon city
upon city, any night, or any day, by any bay—
but my memory would yield no figment
as I searched the memorial for some flicker of death,
or the specter of life!—but the boy who got shot
just an anchor aweigh, the boy
just an anchor aweigh.
I took my shot with a single-use camera,
trained on the spot where the rounds pierced his flesh, but it failed
to capture the soft, combed cotton of his inky black hoodie
lying empty and shivering like a newborn marmot.
So instead I lay with it—my body laid low, my eyes
aimed high—and I saw him there, a baby boy,
a first, a true original, another puncture in the firmament.
like a star, he shinin now. like a star, he washin up
on the banks ov the sky.
Brian Greggs
INTO WHAT WILL THE HAND-HAMMERED SHEET OF COPPER BE FASHIONED?

Light tempers mountain to a will
that morning accepts, diffusing knife points
of ledge
or the quilt which once rivaled sunrise
brazen stripes, cocooned
generations, now muted, threadbare.
They say earth regenerates in a disaster.
Perhaps you know which god answers
to the hammered out.

Kit Kennedy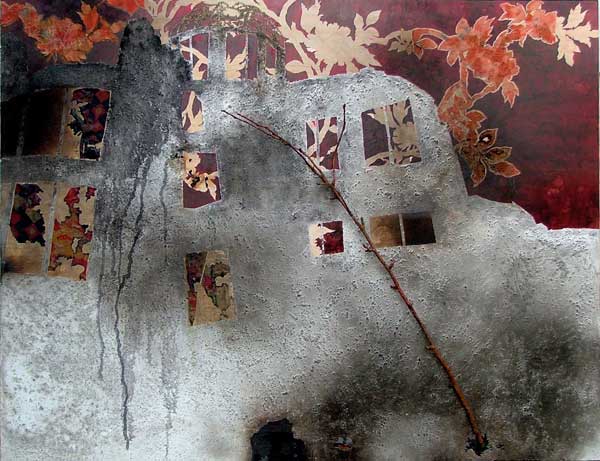 Yukiyo Kawano, 01 secondary witnessing series IV, ink, acrylic, sand, fabric, thread, pumice, gesso, galkyd, adhesive, blackened with burned flame


The Art of Demolition
Men built me
while other men imagined
my pieces on the ground.
I think I know who's winning.
All of the rooms in my heart
collapse.
A wave starts on one side
then windows vibrate like teeth
under the drill.
My structures shift
in strategic chunks
towers drop like obedient trees
just before I hit the street.
My corners stretch
like arms folding a sheet.
Particles of me settle in the lungs:
immortal,
walking forward.
Erica Goss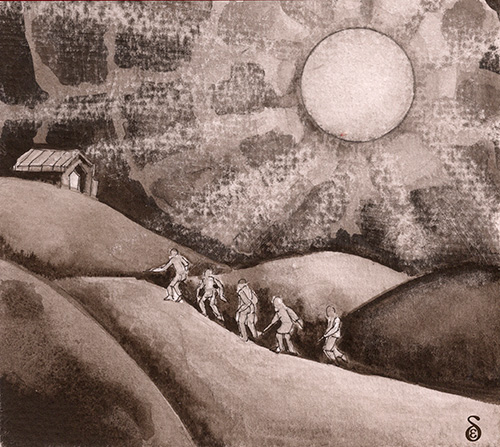 Elaine Drew, Searching for Change, Sepia ink on paper