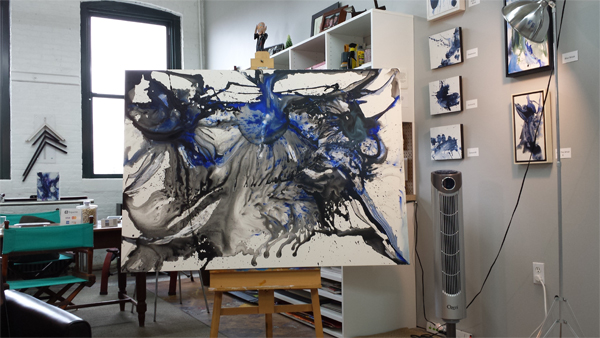 Jeannie Motherwell, Spawn, 2014, Joy Street Studios
ONE THING AND ONE THING ONLY – TO PAINT
Recently, Kit Kennedy caught up again with celebrated Cambridge (MA)-based painter, Jeannie Motherwell. For the full interview from 2013, "'Never Give Up the Joy and Awe of Exploration,' An interview with painter Jeannie Motherwell," interviewer: Kit Kennedy, San Francisco Peace and Hope, Issue 3.
KK: Good chatting with you again, Jeannie. You recently attended your 40th Reunion at Bard College. Please reflect on this milestone and your 4+ decades of art-making.
JM: Of course, it helped that the weather cooperated! Bard College is bucolic, situated on many former estates. When I was a freshman, my dormitory was located in a mansion; those sunsets over the Hudson River are magnificent. And inspiring.
The magic of these reunions is being in touch with my retired professors and networking with friends. Let me make an important distinction – these professors are retired from teaching but not from making art. At the time I was a student, Bard's art department was not like a typical art school. It was a department of renowned artists, showing their work in up-and-coming Soho and elsewhere. We've transitioned from student-teacher to colleagues. Over dinner, we whip out our iPads and share our current projects and then we discuss our new work. This is a very cool thing. One professor was exhibiting new paintings in the nearby town of Rhinebeck, NY, so we all congregated there before heading off to dinner.
I made deep and lasting friendships at Bard. My dad (Robert Motherwell) once quipped, "I love your Bard friends, but there are other people in this world."   
There's something very personal, too. 17 years ago at a reunion, I reconnected with my now-husband (multi-medium artist, Jim Banks). 
KK: In addition to being a full-time artist, you also work as an arts administrator at Boston University. How do you see digital and social media shaping students' work?
JM: I would say, one of the most important things for an artist is to pursue an idea using a medium that validates the art. Artists are usually at the cutting-edge. It is not at all unusual for creative people to adopt and adapt the newest technologies. Just look how artists utilize computers. 
KK: You mentioned, "Hope and peace and our spirit are what I like to believe we as human beings are about." With so many pressing global concerns what gives you hope?  
JM: I grew up in a different era facing a different set of challenges. Although one could easily despair over the current state of events, I try to live my life believing the glass is ½ full. We are all in this together and our responsibility is for our children and grandchildren who will be carrying the torch. The younger generation is left with the responsibility of creating a purpose beyond themselves. 
KK: You mentioned your recent work is larger and different. Why larger and what makes this recent work "different?" Is the new direction a surprise?
During the '70s large paintings were very much in vogue. I learned at Bard how to do large pieces. So this feels like coming home, in a way. Speaking of home, I've always had a studio where I lived. It's a huge change for me to rent a studio at Joy Street Studios (www.joystreetstudios.com) in Somerville. Somerville is an art capital, with an amazing community of artists. For the first time, I'm surrounded by painters, potters, printmakers, glass blowers, jewelers and more. Since December 2013, I have been making this new space a place where my art can thrive. And, yes, I still listen to loud rock music but now I juggle the window unit air conditioner, music, and my neighboring artists. Since the building is open 24/7, we all keep different hours, which makes for a very vibrant community.
Last month, Joy Street Studios participated in Somerville Open Studios, which was a great opportunity for me to engage further with fellow artists and the Boston art community. At Joy Street, we're not in competition; we support each other as creative beings. I didn't know if at my age, I could make such a huge transition and be nourished by it so quickly. 
So, you asked about direction. In addition to size, I'm exploring new mediums and surfaces such as claybord. I found a few small gessoed pieces of wood left over from my dad's studio several years ago and began experimenting. I loved the surface so after some research, I found a company that will make me custom panels any size I need.
KK:  Claybord? 
JM: Claybord is a type of hardboard made with a clay ground formula similar in paintability to the clay gesso grounds used during the Renaissance. The surface is ultra smooth, and highly absorbent so paint colors remain true and brilliant.
Claybord has transformed my work. I'm currently using a palette of payne's gray, white, black and ultramarine blue. Because claybord absorbs some pigments and not others, the colors may disappear after it dries. Ivory white's pigment for instance, is too translucent to remain. I have to use titanium if I want the whites to sing. It's a very strange combination of chance and control because I have to keep working back into it after it dries. At that point, the colors and shapes may have changed dramatically. This is usually the case when I return the next evening. It's exciting but also very challenging, as you might imagine.
KK: Please bring us up to date with your relationship with Quester Gallery.
Quester Gallery is also incorporating "fashion" and dance into their offerings, which have lead me to commissions for Lynne Scalo Design (www.lynnescalo.com). Lynne does interior design for clients who have large homes with larger walls. My new studio gives me the freedom to produce such work. In fact, my recent work is large enough that I first begin a painting on the floor and then have to wait for it to dry, so I can lean it against the wall before continuing.
KK: What's it like living in a 2-artist household?
In addition to being a talented artist, my husband is a custom picture framer and prepares large canvases and rich surfaces for me. My work, with custom sizes, also requires custom framing. We have forged a fine collaboration. We learned early on not to impose our differing ideas on the other's art, but we are also each other's best allies and supporters. 
KK: What's the constant in your art?
If I miss one day of painting, I feel unmoored. Previously, with my studio in my home it was easier to be distracted – laundry, bills, cooking. There were times when the distractions got the better of me. At Joy Street, I'm there for one thing only – to paint.
KK: Thanks, Jeannie.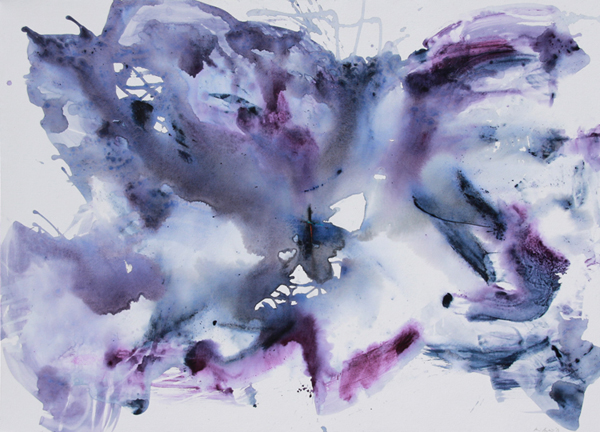 Jeannie Motherwell, Big Bang, 2013, Acrylic and pastel on board © Copyright
To see more of Jeannie Motherwell's work:  www.jeanniemotherwell.com